So I was stumbling around like a Monk across the fields of the internet, and once again was greeted with more fans ranting about OC's and Mary Sue's. It seems that Sonic may not possess the worst fan base. Currently as the Creepypasta Website seems to be the new face in young teens creating there own boring a derivative characters and putting them in short stories to give them an excuse to write a bio, because you know, that's what everyone wants to write, a bio.
My main question is this? Why is it called a Creepypasta OC?
I mean, writing an Original Character within an already established series makes sense (Kind Of) because your adding your own characters into an already existing canon for better or worse.
As far as I know, Creepypastas don't really have a direct canon do they? IDEALLY... They're supposed to be used as these Modern Horror stories that you find on 4chan and talk about throughout the internet. Best example would be stories like "Annie96 is Typing" or "I Told You To Smile". That's at least the basic concept of what I thought made a Creepypasta story separate from just your average everyday horror story.
Now, apparently, it's a site where you get to mail in your boring OC characters that are basically ripping off what's popular and sharing it with your friends. Pretty much the equivalent of a Horror-Theme 4chan site... So basically 4chan.
Okay fine, as dumb as it is to see another girl write down a generic character so that she can write fictional sex with her waifu, I'll let her do that that as long as she isn't writing letters to that damn Boston Bomber.
But I have to ask... How did this transition happen? How did Creepypasta... Ideally a horror site go from being a new age of campfire stories to Gaia Online for Columbine Kids? I mean there's always been a lot of crap in Creepypasta-FAR OUT! But that was always a different kind of crap, Squidward Suicide is just a bad story. This is... A hilariously sad fanbase.
Your thoughts? I wonder how LOLSKELETONS feels about this, the poor man.
I-I mean just look at this...
Before: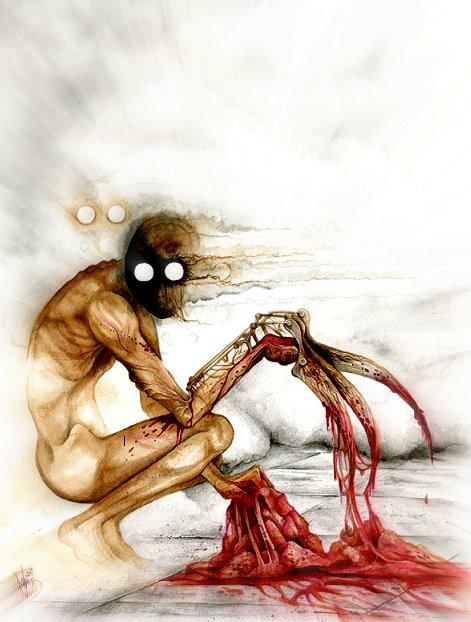 And then gradually...
After:
How does this happen? Did I miss something? I mean with Sonic it made sense... Dumb Sense but I just don't see how this could-... Ugh!